Proposal Daisakusen SP on 28th March!
Saturday. 3.29.08 5:41 am
Good News, drama Proposal Daisakusen SP is going to be out on 28th march in japan.... download!!This drama had touches a lot of viewers' heart and again Yamashita Tomohisa was the main actor in this drama.. The storyline make me feel lugubrious...
Well this story basically tell a boy call Ken Iwase who had not much friends in his elementary school. however he came to know a friend call Rei Yoshida which happen to be sitting beside him. She was transfer from other school. They were on the same class from that year till their high school. It so happen that both of them like each other but they do not have the courage to tell each other.
In first episode, it shows Rei Yoshida's marriage ceremony. However, he in fact still loves her and regrets not having confessed his feelings towards her.A fairy(lol) lets him travel back in time and try one more time to get Rei's heart.
There was photo presentation, where it give a lot of memories to both of them. They had beem together for 14 years. At the same time when he was watching the photos, he had a lot regretful things he have not don for rei.
In his mind,;
"Can I get married if we had gone to the Koshien!?"
"Can I get married through coffee milk!?"
"Can we get married if we switch seats?"
"Can we get married by the second button?"
"Are those who say they'll do it tomorrow are idiots?"
"What do I graduate from on my last day as a teen?"
"When will love and fireworks scatter?"
"Are the tears I shed on New Year's Eve the real thing?"
"What can I bet at the last moment?"
"Last Hallelujah Chance"
"Will a tearful confession call a miracle?"
Despite going back time, he still could not have the encourage to confess his feelings toward rei. However, back to Rei's marriage ceremony, he was suppose to give a speech. Instead of congratulating, he hence confessed to everyone how deep she love her.
Opps.. i almost wrote the whole story..I think this drama is particularly for loveholic drama viewers.
I just cannot wait for kurosagi movie (8th march) and Proposal Daisakusen SP (28th march) I bet it will be delayed.. sian~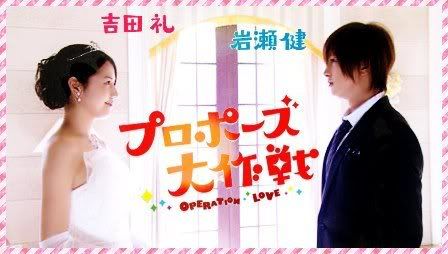 Sorry, you do not have permission to comment.
If you are a member, try logging in again or accessing this page here.